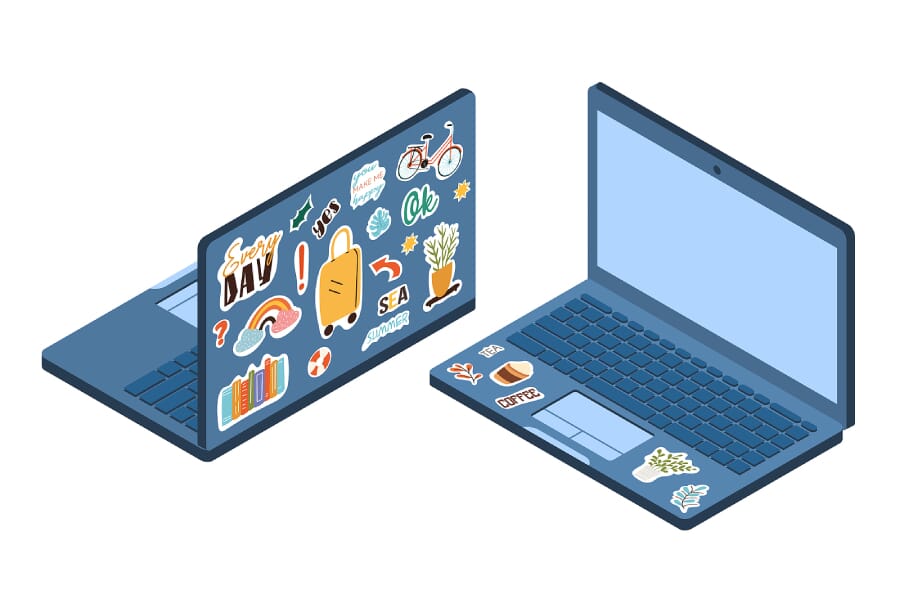 If you are looking for an effective marketing and branding tool, customised stickers are the way to go. Not only are they a tried and tested promotional technique that guarantees successful marketing, but they also are ingenious ways to brand your business with unique finishing touches and stand-out packaging.
The bottom line is if your brand can afford to ignore such a powerful yet cost-effective branding tool as part of your marketing strategy. With that being said, here are five ingenious and unique ways stickers can brand your business.
1. Elevate your packaging
From branding stickers to funky packaging seals, there are many options for sticker printing, getting your brand noticed and elevating your products using promotional stickers. Instead of using packing tapes, why not consider printing your brand logo on stickers wherever possible? If you have been enclosing a thank you card with every purchased product, adding a branding sticker together will help to reinforce the message.
When it comes to packaging, it is all about the user's unboxing experience. It is vital for creating a positive brand association. Hence, going all out using well-placed stickers is crucial.
2. Design your own merch
Designing unique brand stickers that draw attention to your business is one thing. Instead of just designing a one-time-only product, why not turn such a tool into permanent brand merch? Your branding stickers celebrate your business creativity, making them significantly suitable and desirable as freebies or promotional giveaways.
Stickers as business merch are ideal because you will never know where they will end up, making them effective advertising opportunities. You can generate plenty of buzz around your business by handing them out during events.
3. Create brand ambassadors
One of the most significant advantage brand stickers can bring to the business is how they create brand ambassadors for businesses. You can begin that branding process by encouraging your company personnel to decorate their personal items, such as water bottles and laptops, with your brand stickers, placing them around your company where you can make sure your customers see them.
Hillier Industries offer premium label and sticker printing services that are highly durable and highly versatile, allowing our stickers to be used anywhere, both indoors and outdoors. Our stickers can tolerate most harsh conditions, including heat. Hence, you can rest assured that our stickers can be applied virtually anywhere, from your cash register and plant pots to your office entrance or hats.
Look around your office and use brand stickers in high-traffic areas where you know your customer cannot miss them.
4. Think outside the box
If you are looking for ingenious methods with your brand stickers, you need to think outside the box. Your area of application is not limited to just the interior walls. Maximise the potential of brand stickers using your windows, especially if your place of operation is a café or store.
Vehicle decals are another mode of advertising that is worth considering. After all, a well-designed window or bumper decal can travel for hundreds of kilometres, generating tonnes of impressions wherever the vehicle goes. Increase your branding opportunities by adding decals, labels, and stickers onto your vehicles, including smaller ones like your bicycles, so that you can get your marketing message across to your target audiences.
5. Unlock promotions with QR codes
Another unique way to brand your business and generate the right kind of buzz is through special promotions and discounts. One way to attract customers is to gift customised stickers with QR codes. They are significantly straightforward to design. All you need is an attractive background with your brand logo and the QR code for whatever discount or promotion your brand is offering.
6. Spotlight your unique selling point
Printing your brand stickers with your business logo is one of the most straightforward methods of getting your brand noticed. However, why not take a step further by spotlighting your business's unique selling point (USP)?
Maybe your brand uses locally-sourced ingredients in your recipes, or your brand provides a specific solution to a particular problem. Highlighting your USP with a customised sticker will make it much easier for potential customers to choose your business over others. In fact, personalising your customised stickers by including vital, beneficial information adds value for consumers, creating a positive impression of your products as a must-purchase brand.
Conclusion
However, you have decided to utilise stickers for your business; they are a cost-effective manner and ingenious manner to boost brand awareness. At Hillier Industries, you can customise your sticker printing however you want, from choosing the shape to its finishing.
As the leading offset printing company in Singapore, we employ a broad range of printing techniques to deliver quality stickers and labels, such as die-cutting. Contact us today to begin creating brand-boosting stickers for your business!