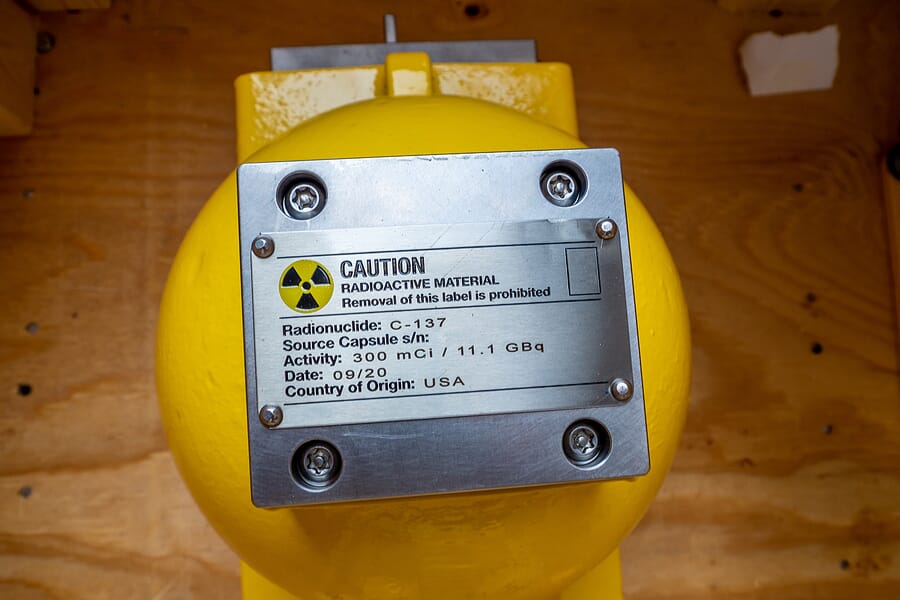 Nameplates are vital components for many industries, from warnings and brand promotions to machine identifications. They are sometimes constantly exposed to harsh conditions, succumbing to physical damages, such as denting or scratching, or even moisture and abrasive chemicals. There are many factors to consider when designing nameplates.
With that being said, you need a durable and versatile material that can withstand such conditions – stainless steel and aluminium. Both are ideal for manufacturing nameplates that will withstand harsh conditions, but they also have vital differences between the two, such as colourising options, workability, and longevity.
In this post, we will find out which material your business should use.
Stainless steel vs aluminium nameplates
Both metals are great at withstanding harsh conditions and substances. They are also easy to install with simple rivet holes or specific adhesives. The texts on the nameplates are also highly visible and readable, with a significant amount of customisability to display your information.
When we compare stainless steel and aluminium, three characteristics come to mind.
Customisation
Each metal has its distinct modification process. Depending on what you are using the nameplates for, you may need either a nameplate that works with welding processes, a nameplate that can be engraved, or a nameplate that is bright enough to be seen in harsh outdoor conditions. Each task works differently on both metals.
There are two particular processes that are unique to aluminium that involves adding ink.
Photo sealing: Photo sealing refers to the process of pressing and sealing the ink into the nameplate's surface. It is ideal if you are looking to add specific bright colours and need it to be scratch resistant.
Anodisation: Anodisation refers to the process in which a thick layer of amorphous aluminium oxide is created on the nameplate's surface. This process allows the metal to absorb coloured dye effectively, making it more resistant to corrosion. It also allows the addition of a variety of colours, making the nameplate ideal for straightforward visibility, organisation, and identification.
While stainless steel cannot go through these two processes, it can be indented through chemical etching or serial stamping, giving users the benefit of their design being a part of the metal, which makes them fade- and scratch-proof.
Another additional bonus that stainless steel offers are its capability for welding. The thermal conductivity of aluminium is significantly higher than steel's, making it solidify at a quicker rate. Additionally, aluminium oxidises, which means manufacturers have to work through the oxidised surface, making it hard for the colour change to occur, which is a crucial process for welding.
However, it is vital to note that some of the customisation options mentioned above can affect the nameplate's durability. For example, silk screen printing can wear or fade the nameplate quickly if it is installed outdoors in specific environmental conditions.
Durability
The nameplate must be able to withstand harsh conditions. For example, highly chemically reactive, caustic, or acidic conditions can result in the nameplates staining or wearing away. If you work in such conditions, the durability of the nameplates is critical as they help to inform and warn people.
Fortunately, both stainless steel and aluminium are excellent in withstanding any conditions. Aluminium is extremely durable and holds up well in poor weather and chemical wear and tear. It is particularly corrosion-resistant due to the oxidation process. However, compared to stainless steel, it is less durable as it scratches and dents easily, as well as breaks under physical pressure.
Stainless steel, on the other hand, is able to withstand harsh weather conditions, caustic and acidic environments, scratches, and dents. The chromium layer that forms on the surface of stainless steel protects the metal further and even provides self-repair properties at levels above 10.5 per cent. However, stainless steel nameplates are not UV resistant. As such, they wear at a faster rate when installed outdoors.
Weight
In the manufacturing process, aluminium is usually alloyed with another material, such as iron, to increase its strength. Aluminium alloys are known to have a high weight-to-strength ratio, making them as strong as heavier metals but without the weight. Aluminium nameplates are ideal for applications where high strength with minimal weight is needed. Aluminium is also more versatile as they are easier to shape.
Stainless steel, on the other hand, is not lightweight. However, it is definitely durable. Because it is a heavy metal, the material cannot be used in certain industries, such as military or aerospace. However, a stainless steel nameplate would fit perfectly as an informational panel for a manufacturing printing machine.
Common uses for stainless steel and aluminium nameplates
You can find metallic nameplates in several industries. Nameplates help to label equipment, promote brands, offer navigation or warning information, or make identification badges.
With the various characteristics of aluminium mentioned above, we now know that aluminium nameplates can be etched, silkscreen printed, engraved, embossed, or stamped. Here are a couple of uses for aluminium nameplates:
Decals
Valve tags
Fire door plates
Equipment identification labels and tags
Barcoded nameplates
Asset badges
Stainless steel can also be used similarly in etching and stamping. Some of the uses of stainless steel nameplates are:
Military place cards
Brand promotion
Navigation panels
Asset tags
Designation plates
Instrument panels
Compliance badges
Control panels
One of the deciding factors between stainless steel and aluminium would be the cost. Aluminium is cheaper than stainless steel due to it being widely available. However, it will end up costing more if you use aluminium for more specialised or thicker applications.
Types of metal nameplates that can use both stainless steel and aluminium
Silkscreen printing: You can screen print on both stainless steel and aluminium, but it may not be as durable as the other methods below. While the inks are bright and work well in an environment that will not result in wearing and tearing or exposure to the sun, they can be scratched or fade easily in harsh conditions.
Engraving: Engraving involves cutting your design out using a rotary tool. Unlike aluminium, which is easy to cut, stainless steel requires tougher, dedicated tools as the material is harder. Stainless steel, however, can be engraved using a CO2 laser to create barcodes and linear marks.
Etched metal nameplates: Chemicals are used to remove a particular part of the metal, leaving behind the final design, which can then be filled with epoxies or coloured enamels.
At the end of the day, both metals offer a premium look and feel and are durable. Their versatility in design and construction means that you can put anything on them, from images and bar codes to QR codes, serial numbers, and instructions.
Conclusion
So, back to the question, "Stainless steel or aluminium?" It all depends on what your business is using it for. Both metals are excellent nameplate choices, working well across many applications and styles. The only difference is in their weight and customisability.
With that being said, whether you need metal nameplates for information panels, badges, signages, or manufacturing, Hiller Industries can help you get the job done well. Besides nameplates, we also provide label and sticker printing services too. Our wide range of printing methods means that we can get any job done. For more information, head over to https://www.hillier.com.sg/ to find out more!